Please use the following links to print and fill out our insurance coverage and patient health history forms. The forms are in the PDF format; in order to view them you will need a PDF viewer such as Adobe Reader. If you do not have Adobe Reader you can click here to download it FREE.
For New Patients:
Group or Individual Insurance
Akridge & Akridge Chiropractic are in-network providers for most major insurances, including Coventry, Humana Veterans, Blue Cross/Blue Shield, United, Midlands Choice PPO, Principal, Cigna, Prime Health, Sanford, Avera, and many others.  Also, your Accident Insurance policy, such as Aflac, may provide you with coverage.  If you have any questions about your insurance coverage or do not see your insurance carrier listed, give us a call.
Patients Without Insurance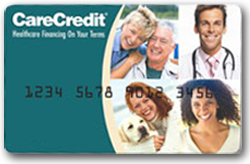 An increasing number of patients do not have insurance, or have plans with limited coverage, such as catastrophic policies. We realize that no one wants to build up a large bill. Therefore, we have several plans so those patients may receive complete care without undue financial difficulty. Of course we are always happy to accept cash, your personal check, MasterCard, Visa or Discover cards.
Akridge & Akridge Chiropractic is now offering payment via CareCredit to our patients.
To get your CareCredit card, please click here to fill out your application online.
"On-the-Job Injury" (Worker's Compensation)
If you are injured on the job, your care should be paid for under your employer's Worker's Compensation insurance. You will need to inform your employer of the accident and obtain the name and address of the carrier of their insurance. If your employer does not provide us with this information, if a settlement has not been made within 3 months, or if you suspend or terminate care, any fees and services are due immediately.
Personal Injury or Automobile Accidents
Please notify your auto insurance carrier of your visit to our office immediately. Notify our insurance department immediately if an attorney is representing you. Although you are ultimately responsible for your bill, we will wait for settlement of your claim for up to six months after your care is completed. Once the claim is settled or if you suspend or terminate care, any fees for services are due immediately.
Medicare
We do accept assignment from Medicare. The check is usually sent directly to our office in payment of the services that Medicare will cover, which for Chiropractors is ONLY manual manipulation of the spine. Medicare pays 80% of the allowable fee once the deductible has been met. You are required to pay the deductible and the remaining 20%, as well as any non-covered services. Our office completes and files the forms for Medicare at no charge.
Secondary Insurance
Please inform us of any secondary insurance you may have. We will assist you if you need help in filing.