Mission Statement
Our mission is to provide you with thorough, individualized treatment in a respectful manner, while always maintaining professionalism.  Our office is a comfortable environment, and we feel it is an outward projection of how we serve our patients.  We strive hard to make our patients feel confident they are getting the best care available, and it is always a compliment when time and again our patients refer to us their loved ones.
About the Doctors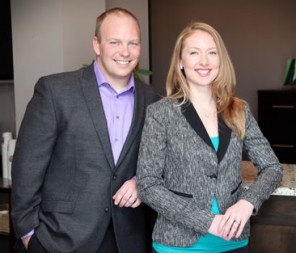 Craig and Lacey Akridge are a husband and wife team, and both are from the Nebraska area.  They met while attending Logan College of Chiropractic in St. Louis, MO and were together in the same class.  They moved back to Sarpy County, NE to serve the area.  They are both members of the American Chiropractic Association and the Nebraska Chiropractic Physicians' Association.  They are also active members in the Sarpy County Chamber of Commerce, Bellevue Chamber of Commerce, and Plattsmouth Chamber of Commerce, as well as other local volunteer and community groups such as Sarpy County Area Kiwanis.  They won the "Suburban 40 Under 40" award from the Bellevue Leader in recognition as outstanding young professionals in Sarpy County.
Dr. Craig Akridge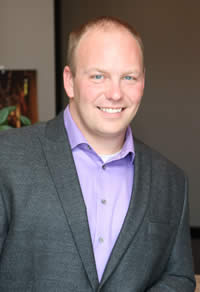 Dr. Craig Akridge is a licensed Bellevue chiropractor in the State of Nebraska.  When it comes to treating his patients, Dr. Craig is a problem solver.   Dr. Craig takes the time and effort to research and provide answers for his patients.  Whether it is hip pain, dizziness, or any other confusing malady, Dr. Craig is here to help.
This commitment to problem solving was forged by a personal experience in which Dr. Craig was in a severe car accident while in high school. After over a year of appointments, tests and other procedures, Dr. Craig was told he could never play sports again due to the pain coming from an unknown source.
In fact, at one point he was told to make an appointment with a psychiatrist since no doctor could find the source of his pain.  Finally, a friend recommended he visit his chiropractor, and the chiropractor found that he had misalignments in his spine and rib cage.  The rest is history.
Dr. Craig finished his business degree at the University of Nebraska at Kearney and went on to graduate from Logan College of Chiropractic in St. Louis, MO as a Doctor of Chiropractic.  Dr. Craig expanded his clinical expertise at the Logan College Student Health Center and then as a senior intern at the Montgomery Health Center in Chesterfield, MO, where he was appointed group leader by his clinician.  Dr. Craig's clinical experience, as well as his personal experience, give him a passion for providing his patients with answers.
Dr. Lacey Akridge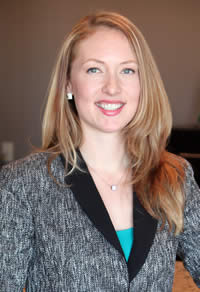 Dr. Lacey Akridge is a licensed chiropractor in the State of Nebraska, and she has a passion for caring for others.  After sustaining an athletic injury while participating on her college track and cross country team, Dr. Lacey had several appointments with various healthcare professionals.  She was given exercises, painkillers and anti-inflammatory drugs, but nothing seemed to get her back to how she used to be before the accident.  Eventually, she was referred to a chiropractor by a family friend.  The success with treatment was so profound, Dr. Lacey was motivated to change her career path and become a chiropractor herself.
She finished college at Northwest Missouri State University in Maryville, MO with a degree in biology, and then went on to graduate from Logan College of Chiropractic in St. Louis, MO as a Doctor of Chiropractic.  While at Logan, Dr. Lacey received several awards for academic excellence, and she was a Dean's List student 9 out of 10 trimesters.  She completed her clinic experience at Logan College Student Health Center, at Bogey Hills Health Center (where Dr. Lacey additionally served as a group leader), and at the Catholic Charities St. Patrick's Health Center of downtown St. Louis as a senior coordinator.
The doctors are a husband and wife team and have been serving the Bellevue, NE area since 2010.
Dr. Mike Sharkey
Dr. Mike Sharkey is a licensed chiropractor in the state of Nebraska. He grew up in Schoolcraft, MI, just south of Kalamazoo. Although his uncle is a chiropractor, Dr. Mike wanted to be a pediatrician, and planned on attending medical school.
During Dr. Mike's junior year of high school, his uncle asked him to spend a week with him in his practice. On Monday that week, they brought in a woman who had been in a car accident. She was so badly injured, he said, the staff had to carry her into the office from the car.
By Friday that same week, after a week of daily treatments, the woman was "80 percent better, and able to walk into the office on her own power," Dr. Mike said. He knew then that practicing chiropractic was how he wanted to impact people and help make their lives better.
Dr. Mike attended Western Michigan University before transferring to Logan College of Chiropractic in St. Louis, where he received his bachelor's and doctorate degrees. He graduated with Dr. Craig and Dr. Lacey in 2010.
After practicing in St. Joseph for two years with his uncle, Dr. Mike practiced for three years in Memphis and then moved back to southwest Michigan to be closer to family before the Akridges invited him to join their practice. He and his wife, Jenn, have four children.