Don't let pain keep you from living your best life.
Call us today and let us help you Live Better!


ride the waves. . .
Whether your dream is to

to make a difference each day.
to feel good enough to be able
Or it's as simple as just wanting

skydive. . .
Whether your dream is to

to play with your kids.
Or you just want to have the energy

be a power lifter. . .
Whether your dream is to

strength to stay in shape.
Or you just want to have the
At Akridge & Akridge, we know what it's like to have pain or injuries
slow you down and keep you from living the life of your dreams.

Most of our patients don't dream of being in the X-Games. But if they do,
pain shouldn't be the reason they can't.

Even if your dream is just to feel good so you can experience
life's everyday joys, have energy and not be restricted by pain,
let us help you Live Better!

Why is chiropractic care beneficial?
We restore joint function and support the nervous system to help our patients maintain optimal health while avoiding unnecessary surgery or drugs.
Why Akridge & Akridge?
We are Bellevue chiropractors and Elkhorn chiropractors serving the Omaha metro area.
We work to understand your specific situation, how you live and what might be affecting you. Then we offer customized solutions for your long-term health goals. No one-size-fits-all treatments here!
You shouldn't have to live with pain. Let us help you Live Better!
Sitting is the new smoking
Did you know sitting actually doubles the amount of pressure on your spine? And poor posture amplifies that.
Sitting for extended periods of time can shorten your hip flexors, cause imbalance in your hips, cause a forward pelvic tilt -- and all of this can lead to constant pain.
So what can you do? Get up frequently -- small breaks more frequently are better than longer breaks less often. Check out this infographic for more great tips. And come see us on a consistent basis to help with alignment and avoid long-term issues.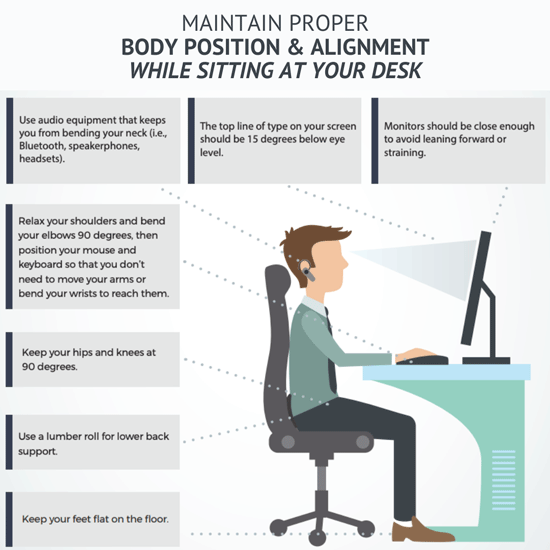 What our patients have to say