Join Akridge Chiropractic at 'Shop Til You Drop'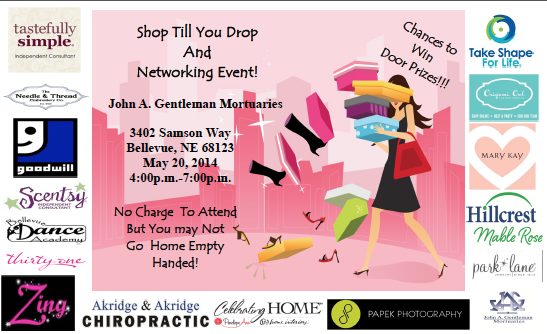 Akridge & Akridge Chiropractic will be joining other businesses for fun and networking on Tuesday for Shop Til You Drop.
This first-ever event is being held from 4 to 7 p.m. May 20 at John A. Gentleman Mortuary in Bellevue.
Sarah Bernhagen, public relations representative, said John A. Gentleman decided to host the event to support business owners who work from their homes. "We wanted to give them a chance to come to a venue and invite their own clients so other vendors can meet those clients.  And it's a business networking event, too."
The event is open to the public. There is no admission charge, "but you can't leave empty-handed," Bernhagen said.
Goodwill Industries is donating beverages for the event, and Mable Rose Estates is donating food. Other participants include Tastefully Simple, The Needle & Thread Embroidery Co., Scentsy, Bellevue Dance Academy, Thirty-one, Zing, Penelope Ann/Home Interiors, Park Lane Jewelry, Mary Kay, Origami Owl and Take Shape for Life.
Come out and join Jenn and the other vendors!