Chiropractic enhances employee wellness
Employees have spoken and they're telling their bosses: We WANT to be healthy, both at home and in the workplace.
In partnership with Workforce Management magazine, Virgin Pulse surveyed 361 businesses and 3,822 employees in 2014 on the impact of health and wellness. The survey found:
87 percent of employees said wellness positively impacted work culture, an increase of 10 percent from 2013.
96 percent of employees participate in wellness programs to improve their own health. Improved health was a bigger motivator at work than financial incentives.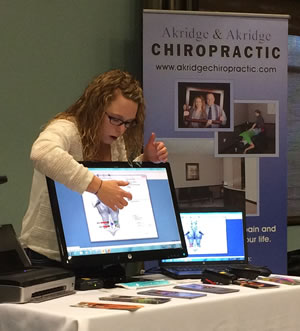 Akridge & Akridge Chiropractic can help you and your employer to integrate chiropractic care into your employee wellness program. Jenn Jorgensen, the practice representative for our clinic, travels to businesses and meetings to explain our philosophy of chiropractic care. She also does health and wellness screenings and talks about "How to Stay Young."
If you'd like Jenn to visit your office or meet with your management team, please give us a call at 402-884-4774 to set up an appointment.
Does your boss need more encouragement? Here are some other findings from the Virgin Pulse survey:
Enhancing mental health is also a priority in the workplace:  52 percent of employers offered services for mental health and depression management in 2014, a 14 percent increase from last year.
The top three options employees want in a wellness program include physical activity programs (72 percent), healthy on-site food choices (66 percent), and on-site gyms and fitness classes. The top three offerings by employers are stop-smoking programs, physical activity programs, and mental health services.
Wellness programs can be a great recruiting tool: 88 percent of employees describe access to health and wellness programs as an important factor for defining an employer of choice.
June is National Employee Wellness Month. Find more information here:
http://employeewellnessmonth.com/wellness-insights-resources/