Drs. Craig and Lacey Akridge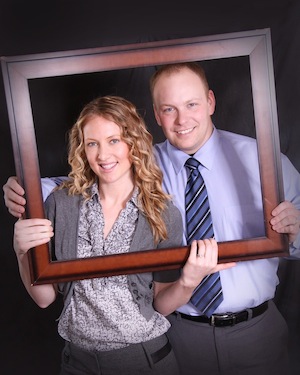 Dr. Craig Akridge is a licensed Bellevue Chiropractor in the State of Nebraska.  When it comes to treating his patients, Dr. Craig is a problem solver.   Dr. Craig takes the time and effort to research and provide answers for his patients.  Whether it is hip pain, dizziness, or any other confusing malady, Dr. Craig is here to help.  This commitment to problem solving was forged by a personal experience in which Dr. Craig was in a severe car accident while in high school.  After over a year of appointments, tests, and other procedures, Dr. Craig was told he could never play sports again due to the pain coming from an unknown source.  In fact, at one point he was told to make an appointment with a psychiatrist since no doctor could find the source of his pain.  Finally, a friend recommended he visit his chiropractor, and the chiropractor found that he had misalignments in his spine and rib cage.  The rest is history.  Dr. Craig finished his business degree at the University of Nebraska at Kearney and went on to graduate from Logan College of Chiropractic in St. Louis, MO as a Doctor of Chiropractic.  Dr. Craig honed his clinical expertise at the Logan College Student Health Center and then as a Senior Intern at the Montgomery Health Center in Chesterfield, MO, where he was appointed Group Leader by his Clinician.  Dr. Craig's clinical experience, as well as his personal experience, give him a passion for providing his patients with answers.
Dr. Lacey Akridge is a licensed chiropractor in the State of Nebraska, and she has a passion for caring for others.  After sustaining an athletic injury while participating on her college track and cross country team, Dr. Lacey had several appointments with various healthcare professionals.  She was given exercises, painkillers, and anti-inflammatory drugs, but nothing seemed to get her back to how she used to be before the accident.  Eventually, she was referred to a chiropractor by a family friend.  The success with treatment was so profound, Dr. Lacey was motivated to change her career path and become a chiropractor herself.  She finished college at Northwest Missouri State University in Maryville, MO with a degree in biology, and then went on to graduate from Logan College of Chiropractic in St. Louis, MO as a Doctor of Chiropractic.  While at Logan, Dr. Lacey received several awards for academic excellence, and she was a Dean's List student 9 out of 10 trimesters.  She completed her clinic experience at Logan College Student Health Center, at Bogey Hills Health Center (where Dr. Lacey additionally served as a Group Leader), and at the Catholic Charities St. Patrick's Health Center of downtown St. Louis as a Senior Coordinator.
The Doctors are a husband and wife team and have been serving the Bellevue, NE area since 2010.