Buy a Team Akridge t-shirt, support Heart Walk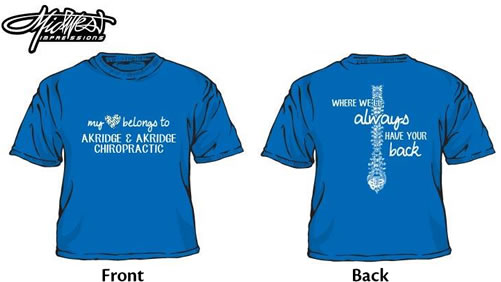 Patients and friends of Akridge & Akridge Chiropractic have the opportunity to support the team participating in the May 10 Heart Walk.
Team t-shirts are available for purchase for $12 each. Midwest Impressions, who is designing and printing the t-shirts, will donate 5 percent of the cost of the shirts back to Team Akridge to boost their total donation to the American Heart Association.
The shirts have a feel similar to American Apparel-style t-shirts and are very soft and stretchy, said Jenn Jorgensen, director of marketing. They run true to size and will not shrink in the dryer.
Akridge & Akridge Chiropractic will join other teams at the  Heart Walk on May 10, 2014 at Miller's Landing, 151 Freedom Park Road, Omaha. Opening ceremonies start at 9 a.m. and the walk is scheduled for 9:30.
Deadline for orders is noon Friday, May 2. E-mail Jenn at pr (at) akridgechiropractic.com to place your order. Include your size and the number of shirts you'd like to order.